The Fighting Pineapple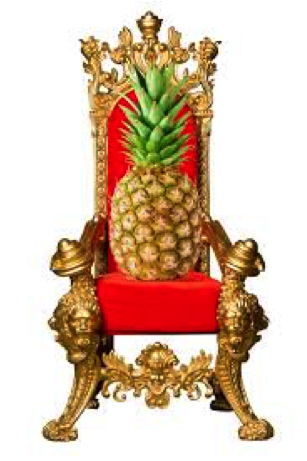 Pineapples, a tropic fruit of pure deliciousness. It looks intimidating with is spiky hard exterior but on the inside, it has a heart of sweetness, and wears a crown of envy. But pineapples aren't just good for Piña Coladas, though those are just as tasty. First let me lay down some history. Back when Christopher Columbus sailed the ocean blue in 1492, or rather on his second voyage in 1493 he dropped anchor in the cove off Guadeloupe. In a deserted village, he found a strange and unique fruit that looked similar to a pinecone but had the inside similar to an apple (now you see where the name came from). He brought it back to Europe and it became the new trend in showing your wealth at banquets. If you had pineapple at your banquet, then you were the real cat's meow. It wasn't until the 1600s until they perfected a hothouse to grow the unique fruit. King Charles II posed with a pineapple, making it the symbol of royal privilege. I'm thinking the king was just jealous of the pineapples natural crown. Though they originated in south America, they now come mainly from southeast Asia and Hawaii. In fact, people of Hawaii sometimes call a slight drizzle "pineapple juice." Now in America the pineapple can be seen on houses as a way to show hospitality.
Not only are pineapples good for tenderizing meat, I know my family always puts it on top of Ham, they also have a TON of health benefits. They contain proteolytic enzyme know as bromelain. This enzyme has been shown to be an effective anti-inflammatory, muscle relaxant, and digestive aid. Better yet, it interferes with the growth of tumor cells, which means it fights cancer or help prevent it. You could say it's a warrior fruit as well. They are a good source of Vitamin C, good for bone strength, eye health, and blood clot reduction.
With every positive there is a negative. Though rich in vitamin C, this could cause diarrhea, nausea, vomiting, and abdominal pain when too much is consumed. Extremely high amounts of bromelain can cause skin rashes, vomiting, diarrhea, and excessive menstrual bleeding. It can also interact with medications so make sure to do your research. Make sure your pineapple is actually ripe, as it can be toxic to humans.
With moderation pineapples should be included in your fruit diet. Add it to your drink or kabob, they will brighten up any fruit platter. Show your hospitality by including it in some décor. Pineapples are the crowning glory of fruits, and even if you don't like the taste of them at least you can't deny that they look pretty cool.
Craving a RECIPE now!? Here you go!
Robyn, Strong Together Fitness