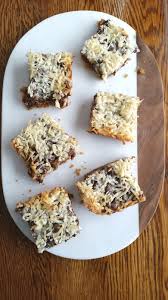 These treats are packed with good-for-you fats, nutrients, and even a hint of protein. You may feel naughty eating them, but each bar has only 1 unit of carbs, and 2 units of fat. Try them for yourself! (If you want to know what your individual nutritional "units" should be and what that means in terms of your weight loss and fat loss, visit here and reserve your spot!)

Ingredients:
1 cup unsweetened shredded coconut
3 scoop Shaklee Plain and Simple Protein Powder
2 Tbsp Hemp Hearts
2 Tbsp Pumpkin Seeds (pepitas)
2 Tbsp Sunflower Seeds
2 Tbsp Chia Seeds
1/2 cup fat-free sweetened condensed milk
1/4 cup enjoy life mini chocolate chips
Pinch of sea salt
Directions:
Grind 1/2 cup of coconut in a food processor. Mix the powdered coconut together with the rest of the coconut. Stir in the remaining ingredients. The mixture should go from crumbly to sticky. If the mixture is dry, add in a tbsp of almond or coconut milk until a sticky consistency is achieved.
Heat the oven to 325 degrees. You can make these into bars by lining a cookie sheet, or into individual servings by spraying a mini-muffin tin. For bars, pour the mixture onto the pan and spread, pressing down to create a fairly thin layer. For the individual bites, drop and press a spoonful into each individual muffin tin.
Place in the oven for 10-12 minutes or until the edges begin to brown. Keep your eye on them as each oven will cook differently, and they can over-toast easily. Remove from the oven and let cool. Break into squares, and enjoy!
20 squares: 1 unit Carbs, 2 units Fat, 0 units protein
Plus, they have 4g of healthy saturated fats, 38 mg of potassium, only 1.5g of sugar, 8% of your daily calcium and 10% of your daily iron needs!
Enjoy this Chester CrossFit treat!-Coach Trish