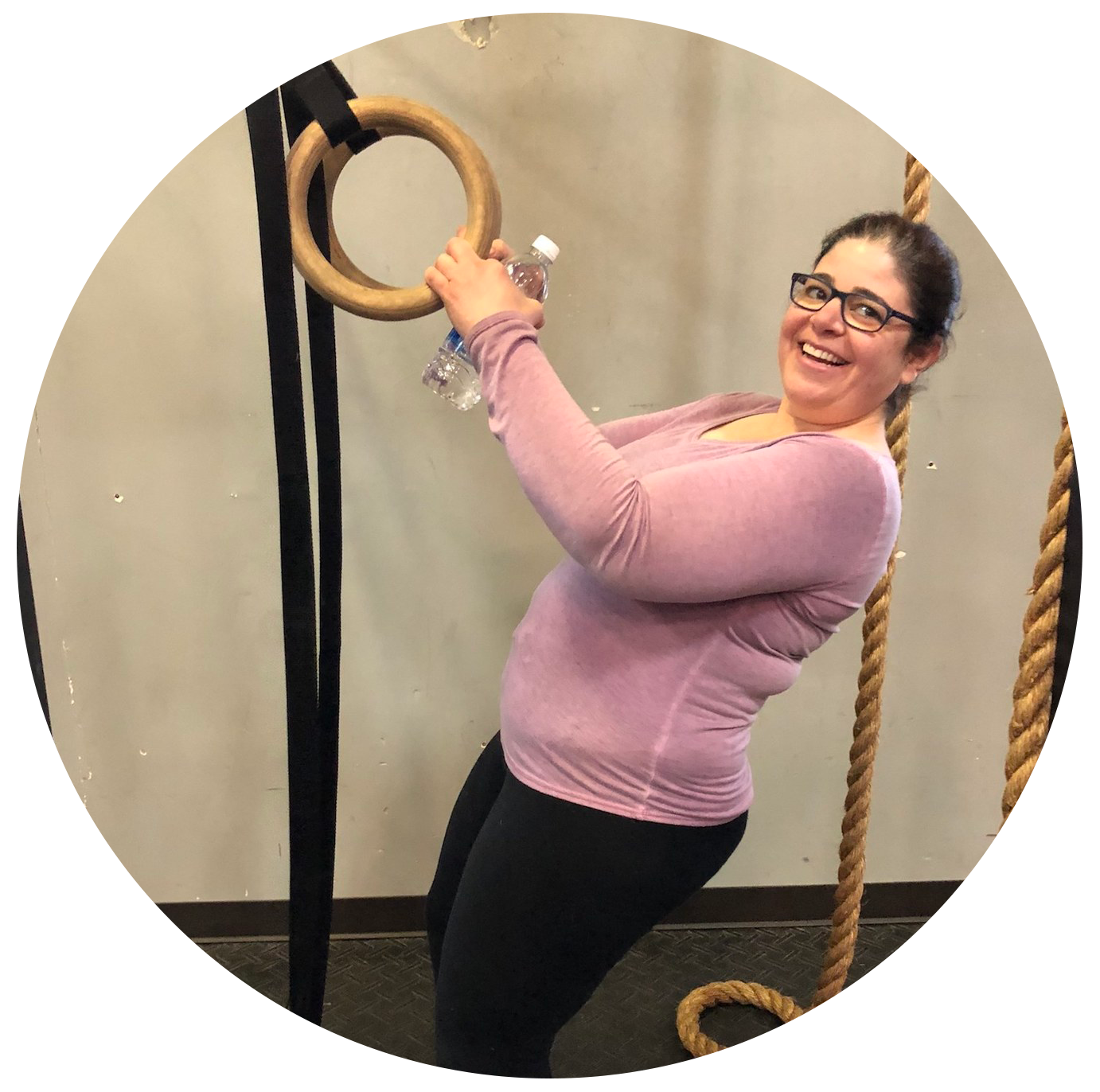 As I bent over to take the green twinkling lights out from the red storage bin, my stomach tumbled over my waistband and peeked out from underneath my Charlie Brown Christmas themed t-shirt.

Ugh, I thought. I have to do something. I am already jiggling like Santa, and I haven't even begun the traditional holiday over-eating.

So after lifting a few more boxes, and getting winded I decided to pursue a long-lost goal of mine—

I put down the boxes, picked up my Mac and registered for the June 2 race.

There, now I have about six months to train.

Anxiously, I downloaded the five-week couch-to-Spartan and did the impossible—

Start a workout program during the holiday season.

Yet, there I was, every morning, doing one of the various workouts assigned for the day under the flickering of the green lights.

And while I was happy to be working out, I was still packing on the pounds from my husband's tasty pasta dishes and my nieces sweet cookies.

By the end of the five weeks, it was time to take down the Christmas lights, and find place to continue preparing for the race.

Serendipitously, when I Googled "training for a Spartan race," Strong Together Chester CrossFit" (STFCCF) came to the top of the search.

I clicked on the link, and right-away loved the concept of a place where you not only went to get fit, but also hung out in an atmosphere which was a friendly, family like environment where your coaches are your biggest supporters and butt-kickers.

Immediately after speaking to Trisha "Coach Trish" Terns, and meeting her dog Odin, I knew STFCCF was the place for me, and I signed up right away.

The following day, I had my initial consultation with Joe "Coach Joe" Rusyn. He was very professional, caring, and very patient with explaining not only the fundamentals of the workout, but also how the gym operated, and what to expect.

The day after my initial consultation, I took part in my first All-Out class with Zack "Coach Zack" Seres.

Coach Zack was very gregarious as was everyone in the class. Coach Zack and all of the class members went out of their way to say hello, and made me feel welcomed. One of the woman was so kind-hearted that she showed me where the rollers were, how to use them, what the messages on the whiteboard meant and how to do parts of the workout.

I was in awe, especially since even at the YMCA, class members seem to be competitive.

At the end of class, the group got together to help each other clean-up and partook in a class cheer.

After a few weeks of attending all-out classes, pretty steadily at three-days-a-week, I had noticed that I had more energy and was feeling a bit better. But was still lagging in results from those of my classmates.

At that time, STFCCF was offering a HealthPrint Assessment as a part of your membership if supplementation was of interest to you. This is to assist members in assessing daily habits such as eating and sleeping.

I decided to take part in the assessment to see if there was something I was missing.

When Coach Trish and I sat down to do the assessment, we found out that because of my digestion issues, my diet, while not bad, was not going to give me the results I sought out to achieve.

We also found out I was not getting enough sleep, which was most likely cause by letting too many toxic people take advantage of me.

Life-Coach Trish and I created a meal/vitamin plan using the Shaklee products. The Shaklee products are "ultra-pure, plant based, non-GMO" shake mixes, snacks and meal bars which do not have any gluten, lactose or pretty much anything bad in them.

The plan we came up with together based on my lifestyle included two "energizing shakes," two snacks and the women's Vitalizer vitamins, plus a solid meal or two with real food.
After going on the Shaklee plan, and avoiding toxic people by taking Coach Trish's advise and staying in my bubble of positivity, along with my workout, I have lost at least two inches around my waist, an inch in my arms and an inch around my legs.

I also no longer have digestion issues and I have a ton more energy. For example, on Saturday I was able to help my husband take down wallpaper, all afternoon, after doing a WOD class in the morning.

The would not have happened had I not listened to Coach Trish's advise to increase my work-out days, and go on the Shaklee program.

It might sound cliche, but it is a total lifestyle change. In a little over the six-weeks I have been attending STFCCF, I have managed to run my first 400 meters without stopping or getting winded (thanks to a lot of encouragement by my classmate Amanda) and am on my way to learning to climb a rope.