The VITAMIN and SUPPLEMENT industry is like the WILD WILD WEST.
No direction.
No education.
No reliable certification.
Just mass media and marketing trying to get you to buy synthetic vitamins and shakes, that which when taken over long periods of time could hurt you and your family. Seriously. It's time to EDUCATE yourself!
Our expert Strong Together coaches want to fix this problem.
Do you suffer from Migraines/Headaches? Low energy? Skin issues? Poor sleep? Sore muscles? Joint discomfort? Mood Swings? Hot Flashes? You name it... There is help!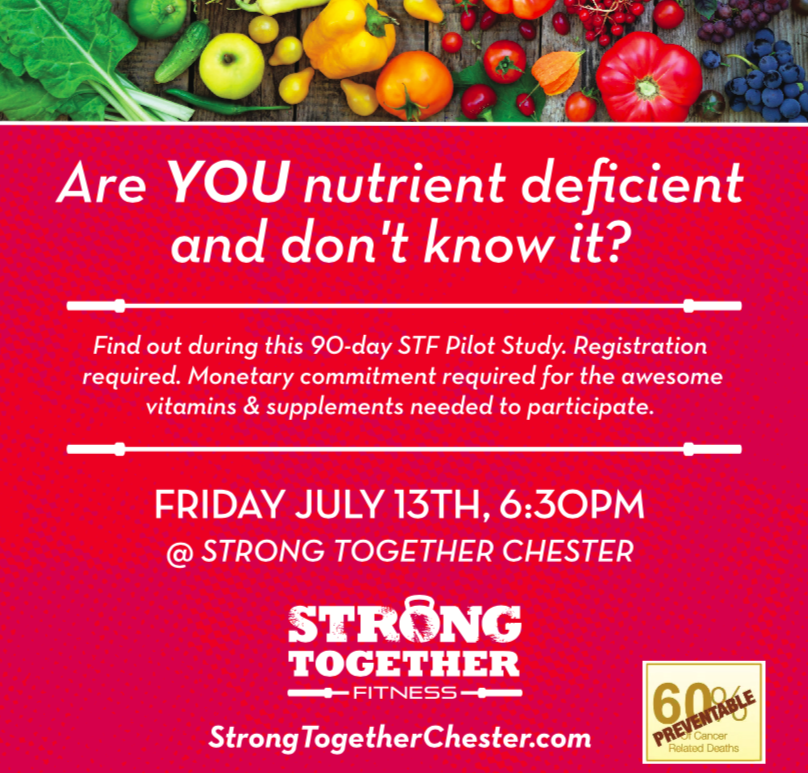 Come join this awesome Nutrient Sufficiency & Supplement Workshop and Orientation. Even if you don't plan on signing up for the 90-Day Pilot Study, it's free to come in and educate yourself on vitamins, minerals, and what you might be missing in your world to make it better!
Expect 1 hour for this awesome workshop.
If you can't make it this round, don't fret! There is another being hosted down the road. Spots fill up fast though, so please EMAIL JOE@STRONGTOGETHERFITNESS.COM to reserve your spot! We'll need to prepare materials so you must reserve ahead of time! All levels, ages, members and non-members are welcome!
Not interested in coming in person? Take our HealthPrint Assessment online and send us your results! We can support you in making any decisions you need to in regard to our awesome vitamins and supplements. Awareness is KEY.